PowerMate Step Extension - Exclusive to PowerMate
The PowerMate Step Extension and Small Pivot Pad allows for Operation within Tight Spaces and is Part of Our Complete Residential Moving Solution.
The Step extension and Pivot Pad are perfect for small landings and tight turns, the stair extension and large pivot pad can be used at the top or bottom of stairs to create extra space on tight landings. This accessory gives you the ability to complete 17% more installs and removals than ever before!
Features and Benefits: Telescopic feet adjustable to virtually any stair rise and run; light weight unit requires minimal space on the delivery vehicle, move your loads around tight corners while protecting your customer's product and property.
The Step Extension / Pivot Pad make a hard install easy! The Step Extension with Pivot Pad allows the load to be spun 90 degrees in a near vertical position without damage to product or property.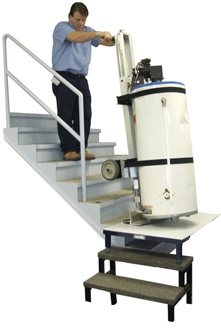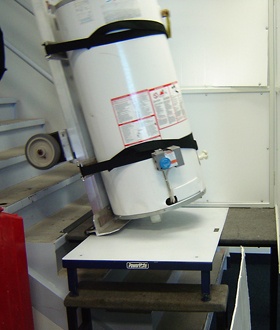 A PowerMate stair climber has the ability to raise the wheels which reduces the footprint. This allows for tight turns on landings and corners. Try that with a conventional hand truck!