PowerMate and Safety
All PowerMates Have Been Designed with Your Safety in Mind.
Every PowerMate stair climber is equipped with a load brake which ensures the load does not move unless the operator opens or closes the machine. This feature provides greater control and safety for the operator and facilitates the positioning of your load within a balanced position - even while on stairs!
PowerMate loads are always secure.
With a PowerMate you have the choice of 5 different strap lengths or may request custom strap lengths to suit your needs. You also have the option of placing the strapbars wherever you need them on the machine frame. This option ensures all loads are secured to the frame before moving – enhancing YOUR safety as well as protecting product and property.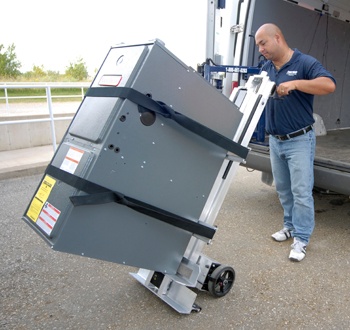 PowerMates are versatile with many configurations to suit any number of load types or terrain. Larger wheels, for example are easily attached to the frame for transport over rough or uneven ground.