PowerMate Training Programs
PowerMate has the Best Operator Training Program in the Industry. We also Offer "Train the Trainer" Programs and Maintenance Training...
PowerMate World Class Operator Training
Invest in your people. Training is imperative to gain compliance and realize the full benefits of your investment. It's important to give your employees the right tools for the job - it's critical they know how to use them safely and effectively!
PowerMate North American Operator Training Programs are available five ways:
Training Video and Manuals
"Train the Trainer" Program – train someone to train all your operators and installers.
On-line Instructional Training Webinars – COMING SOON!
Training at our International Training Center in Brantford, Ontario
Customer On-site Training.
PowerMate Service is recognized as Best in Class. We offer a complete solution from the time of purchase until you retire the unit.
1-800 help line.
Machine Re-Certification.
Value-Added Accessories.
Parts and Service and Complete Machine Replacements.
On-Site Customer Training and Re-Training Programs.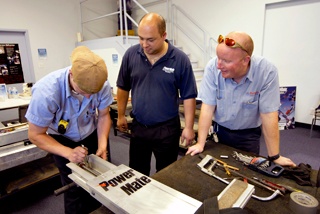 "The PowerMate training proved to me the machine can be operated in tight spaces. I learned how to use the pivot pad and stair extension. I now have the confidence in the machine I was lacking before I took the training"
- Reliance Home Comfort Trainee.