PowerMate LE-1 Motorized Stair Climbing Hand Truck
The PowerMate LE-1 Features our Unique Dual Drive Screw Technology.
The PowerMate LE-1 is perfect for moving residential hot water tanks, furnaces, geothermal units, pumps, small boilers, generators, radiators, drain cleaning equipment, motors, compressors, and 13+ SEER rated A/C units on and off vehicles, over thresholds and up and down stairs.
Dual drive screws allow for perfectly balanced loads and effortless deliveries; most with just one person! Unique design created for low center of gravity loads, with a vertical lift capability of 40" (stacking) - Perfect for pedestals and wall mounted AC Units.
More features of the PowerMate LE-1 include:
Extruded aluminum construction for greater durability and strength.
Hardened steel drive screw for strength and durability.
Integrated load locking safety feature in the ball nut provides additional drive system security.
Two switch operation with right side over-ride for greater safety.
3 point break-back system for full control.
Solid State controls result in increased battery life and lowest total cost of ownership.
Double drive screw design turns a two person job into a one person job when moving bottom heavy loads.
Front loading lift is ideal for placing product on raised surfaces.
The LE-1 allows the operator to slide the load up and down the frame while on stairs resulting in perfect neutral balance.
LE-1's come complete with hand operated wheel brakes, two strap bars, battery pack and dual drive screw stacker unit.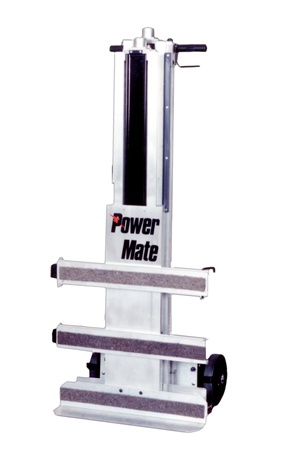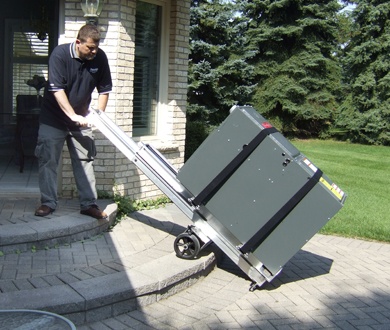 The PowerMate exclusive long-life battery is designed to be kept fully charged while not in use. This prolongs the life of the battery and ensure your PowerMate is always 'hot' and ready to go!