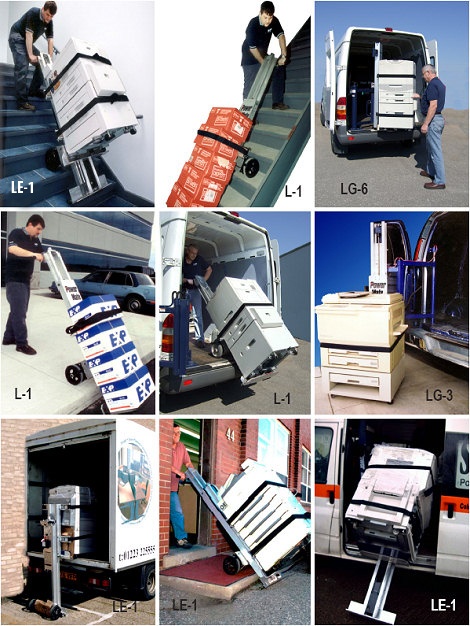 Features:
Motor provides 100% of the lifting.
Maintenance free 12 Volt rechargeable battery.
Full range of models up to 1500 lbs. capacity.
Some models include automatic load elevation.
Automatic braking system.
Variable position strapbars.
Five machines in one:

Power stair climber
Power tailgate lift
Loading dock leveller
Power lift
Well balanced dolly
Benefits:
Reduces physical effort used to move heavy loads.
Reduces the chance of personal injury.
Lowers labor costs.
Increases job efficiency and productivity.
Factory authorized operator training.
Improves degree of customer service.
Variable weight distribution to ensure well balanced controlled load.
Loads are moved in a fraction of the time.
Equipment pays for itself and increases profits.
PowerMate® takes the strain out of moving:
PHOTOCOPYING MACHINES, CARTONS OF PHOTOCOPY PAPER, etc..