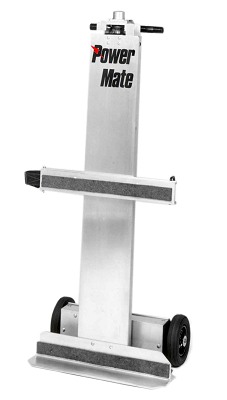 PowerMate Model L-1
Fully Automatic Braking System
Override Clutch
Safety Grip Handle
100% Extruded Aluminum Construction
Machine 24"W x 16½"D x 60" High
Machine Weight 100 LBS / 45 KG
Heavy Duty Control Switches
Multi-Position Strapbar 24" Length
Bar

and

Plate Felt - Protects Loads
Heavy Duty Reinforced Straps 10 ft. Length
Quick Release Safety Locking Cam
Super Efficient Drive Screw
.65 Kilowatt High Efficiency DC Motor
Sealed Battery 12V 20AMP
Maintenance Free

and

Rechargeable
Puncture Proof Wheels 8" Diameter
Extruded Aluminum Toeplate 24"W
Solid Steel Axle 5/8" Diameter
Anti-Skid Protector On Heel Of Machine
Lifting Height 40" (101.6 cm)
Machine Capacity 650 lbs.
STANDARD EQUIPMENT
Model L-1 comes complete with one strapbar, one battery and one battery charger.

ACCESSORIES
Available .. Extra Strapbar, Stove Handler Attachment, Hot Water Tank Attachment, and Charging Cord
LOADING SPECIFICATIONS


Flat Surface Moving
Stair Climbing
Tailgate Lifting

One person
450# (204 kg.)
450# (204 kg.)
350# (159 kg.)

Two people
650# (295 kg.)
650# (295 kg.)
650# (295 kg.)
Above weights are based on qualified operators moving loads that have the weight evenly distributed all along the frame.
Load Area Drawing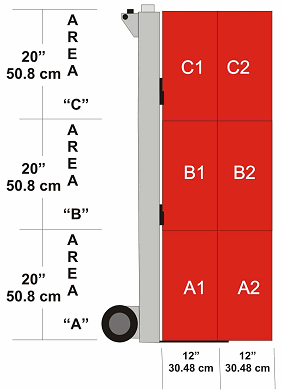 Loading Recommendation Instructions
Steps for matching loads to PowerMate models and the number of trained qualified operators required to move the loads.
Determine the weight of the load to be moved.


Determine where the weight is concentrated in the load. (i.e. The centre of gravity of the load)


Using the load area drawing, determine in which area (A-1 - through - C2) the centre of gravity is located.


Refer to the safe loading recommendation chart to determine



whether the load can be moved safely on flat surfaces, on stairs, on and off vehicles and on and off loading docks to low bed vehicles.


the number of operators required to safely move the load.
Safe Loading Weight Recommendations In Pounds
Operators Required

L-1
Flat surface moving
Stair climbing
Vehicle and dock loading

1

450
300
300

2

650
650
500

1

350
200
200

2

500
400
350

1

400
450
350

2

650
650
500

1

400
300
250

2

650
650
450

1

350
400
350

2

650
650
500

1

350
350
200

2

650
650
450
Safe Loading Weight Recommendations In Kilograms
Operators Required

L-1
Flat surface moving
Stair climbing
Vehicle and dock loading

1

204
136
136

2

295
295
227

1

159
91
91

2

227
182
159

1

182
204
159

2

295
295
227

1

185
136
113

2

295
295
204

1

159
182
159

2

295
295
227

1

159
159
91

2

295
295
204