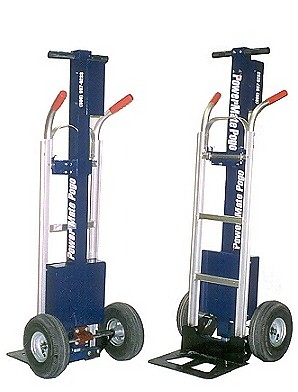 PowerMate® Model #POGO P-1
Extruded Aluminum
.65 Kilowatt High Efficiency DC Motor
Efficient Ball Bearing Drive Screw
Fully Automatic Drive Screw Assembly
End Stop Drive Override
Heavy Duty Electronic Controls
Pneumatic Wheels 10" Diameter
Solid Steel Axle 5/8" Diameter
Powered By Sealed 12 V Maintenance Free Rechargeable Battery
Safety Grip Handles
Anti-Slip Heel
Rocker Switch Activation
United States Patent #5,829,763, Foreign Patents Pending
Lifting Height 34"
Machine Capacity 200 lbs.

STANDARD EQUIPMENT
HandTruck PowerMate® Pogo comes complete with battery pack, and battery charger.

ACCESSORIES
Cylinder Attachment, Extended Toe Plate - Depth, Extended Toe Plate - Width, In-Transit Charging Systems, Strapping Accessory
MODEL POGO P-2 Part Number 470012




Lifting Height
Machine Capacity
Weight . . . . . . . . . .
Overall W x D x h




810 mm
100 kg
31 kg
560mm x 480mm x 1220mm




32"
220 lbs
68 lbs.
22" x 19" x 48"