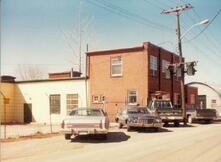 September 16, 2012 marks the 30th anniversary date for the manufacturing entity producing stairclimbing and lifting solutions. L P International Inc's name was chosen to reflect the global nature of the clientele to which the product was sold. Today, with distribution in certain markets worldwide and strong sales cross-border the name continues to be appropriate. Though original designs of PowerMate stairclimbers dated from late 1976 and were originally manufactured in small town of Burford,Ontario, and then later moved into manufacturing facilities in Brantford,Ontario.
With a mission: "To meet and exceed the challenges of our current growth and future demand to become the prime supplier of the PowerMate® products & services to all major industries worldwide". L P International Inc provides quality lifting solutions under a continuous ownership family business since inception.

L P International Inc.'s quality objectives are to:
▸ Produce products that exceed World Class Quality
▸ Train to achieve global utilization of L P International products through a skilled workforce
▸ Implement and improve quality systems for a more efficient operation.

L P International Inc. wishes to thank all our customers, vendors and employees for all the past successes, developments and continued partnering opportunities well into the future.