At the BuyMax Clockwork trade show in Nashville in late October, we introduced a prototype for a new PowerMate® LiftGate. At first glance, the new, yet-to-be-named LiftGate model looks similar to the LG3 and LG6 models, and its design is based on the same premise: It's small, compact, and it will be available at an affordable, lower price point.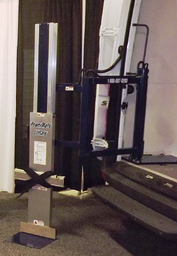 What's different about this new LiftGate is that it can tolerate environmental elements, and it can be installed on the outside of a vehicle. There are other differences, too, which make this new LiftGate a standout solution offering PowerMate® customers more abilities and options.

Those at the trade show said they appreciate the opportunity to install this new LiftGate in pickup trucks and trailers, rather than inside enclosed vans. They were also calling the new LiftGate a "switchblade" solution because of the way it operates. The new LiftGate is ideal for moving and hoisting motors, drain-cleaning equipment, spools of wire, residential generators and more.

Originally designed for boat lifts, the new LiftGate offers a cable-type of application and operates in more of a crane environment rather than a swing-gate environment. With the cable-type of application, it offers the ability to go beyond 40 inches in lifting and hoisting. But, like the LG3 and LG6, the new LiftGate can handle up to 500 pounds – and it can save you from a lot of muscle strain and back pain!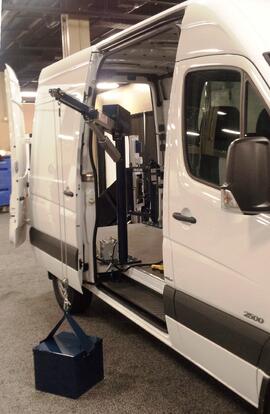 We'll be posting more information about the newest addition to the PowerMate® LiftGate family here on our blog and on our website. But, if you have any questions now, please call us at 1-800-697-6283 and we'll be happy to tell you more details!