It seems that almost on a daily basis we get requests for specialized solutions from individual customers. These requests vary, depending on the industry. Some of these requests are dictated by government requirements, and other customization requests are simply personal preferences. Either way, we are happy to help any way we can!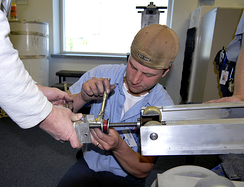 At PowerMate, we're 100% ready-to-go when it comes to providing customized products and solutions to our customers. Depending on how and where they're using PowerMate, our customers sometimes have very specific needs: Maybe it's a requirement for specialized training, or a special accessory, or maybe it's the need to protect and secure their PowerMate. New applications are always arising, and we are ready to meet whatever custom needs you may have. Whether it involves product development or machine modifications, we will analyze your application and create the proper customized solution.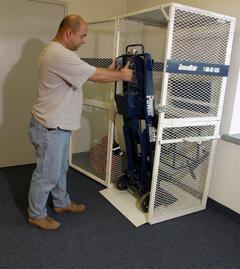 Sometimes the results from these partnerships end up benefiting all of our customers. For example, one of our customers required a storage and charging station for their PowerMate product, in order to protect it when it wasn't in use and monitor its use. From this custom request and experience, we created the PowerMate Docking Station. It's a locker/cabinet, designed with wired mesh, and it includes a door with a lock. A clipboard hangs on the outside of the PowerMate Docking Station and this clipboard can hold the maintenance history and a log of the machine's use, as well as various accessories. It's ideal for companies who use their PowerMate as a shared resource.

Do you have any special requests or requirements that we can help you with? Let us know! At all times, we have the capabilities in place and we're ready to go that extra step to help you get exactly what you need from your PowerMate experience.