What does a PowerMate COST?
Over a period of just one year, the "cost" or as PowerMate refers to it, the "investment" required to get a PowerMate working for you is the equivalent to:
One-Time Investment – Many times less than the cost of just one lost time injury

Quarterly – Less than cost of just one visit to the lawyer

Monthly – Less than cost of just one injury investigation/meeting

Weekly – Less than the cost of just one pair of safety boots

Daily – Less than the cost of just one hard hat

Hourly – Less than the cost of just one pair safety glasses

Per Half Hour – Less than the cost of just one Band-Aid

Include your PowerMate with your new vehicle purchase/lease - Less than a cup of coffee per day!
What is the RETURN on a PowerMate:
Independent Research and PowerMate Customers validate the typical payback period in labor and time savings alone is 2.2 months with PowerMate delivering a 10:1 Return on Investment (R.O.I) by the end of the first year. With proper care and following the recommended routine maintenance instructions a PowerMate® can last for years and years!
The life expectancy of a PowerMate does vary greatly depending on the frequency of use, the weight of the loads moved and like anything else, the care taken of the equipment. An average life expectancy of 5-10 years is not uncommon. Today, some of the PowerMate stair climbers L P International Inc. sold the first year it opened its doors, over 35 years ago, are still being used!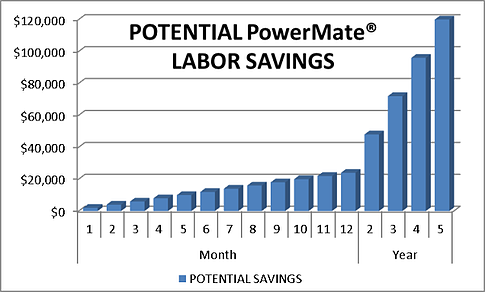 The chart above only shows the typical labor savings and does not include: the cost of avoiding a single preventable injury (U.S. Dept. of Labor uses $29,000 in direct and indirect costs), the additional savings from eliminating damage to product, property, the need or costs to call for help, not requiring a tail gate lift for your vehicle and the potential to grow your business through more repeat and referral business etc.
Today, many PowerMate safety conscious customers consider PowerMate as a piece of Personal Protective Equipment (PPE). What price would you put on: Your back? Being able to enjoy the career path and quality of life you choose and Avoiding the potentially devastating negative financial impact preventable injuries can have on your business?
If adding just one PowerMate stair climber and/or LiftGate to your "tool box" can deliver these results and generate this kind of return, what would 2, 3, 5, 10 or more do for your bottom line? Call 1-800-697-6283 and let one of highly knowledgeable Solutions Specialists help you with your order! Start saving more money TODAY and for many years to come!