The most recent winner of the Smart Contractor Products FREE PowerMate® Give-Away of a Model L-1 for 2015 is: AIRTECH Heating & Air Conditioning Corp.

Congratulations! As a leader in the HVAC Industry, they are a highly customer-focused heating and air-conditioning company that was originally started in 1972. Located in Bellwood, IL, they employ highly trained people whose goal is to make their company the best service company in West Cook County and East DuPage County, IL.
| | |
| --- | --- |
| Their company specializes in designing, engineering, and installing complete comfort systems for owners of existing homes and buildings. | |
Airtech takes special pride in the craftsmen they train and employ - a fact you'll notice immediately in the attitude and integrity they bring to the job site. Their entire company works hard to make the customer's experience as hassle-free and enjoyable as possible. If they make a mistake, they will do everything in their power to correct it to the customer's satisfaction. They even go so far as to guarantee it!
| | |
| --- | --- |
| It is anticipated the PowerMate Model L-1 will be used for many applications within the company for moving everything from Carrier heating and cooling products to Rheem water heaters, and more. | |
Implementing a PowerMate solution has three major benefits that fit with Airtech's mission to provide the best customer experience possible:
1) PowerMate is regarded by many HVAC companies as a piece of "Personal Protective Equipment" or PPE. Using PowerMate will keep their technicians safe from costly and preventable loss time injuries related to lifting.

2) In the HVAC Industry, PowerMate users typically realize a 10:1 return on their investment in the first year alone! This means increased operational efficiency and productivity resulting in higher profits and more competitive pricing.

3) Through implementing PowerMate as part of best practices, you are further demonstrating your commitment to provide your customers with a superior service experience; by reducing the potential for damage to your customers property and the product you are installing. Happy customers means more repeat and referral business!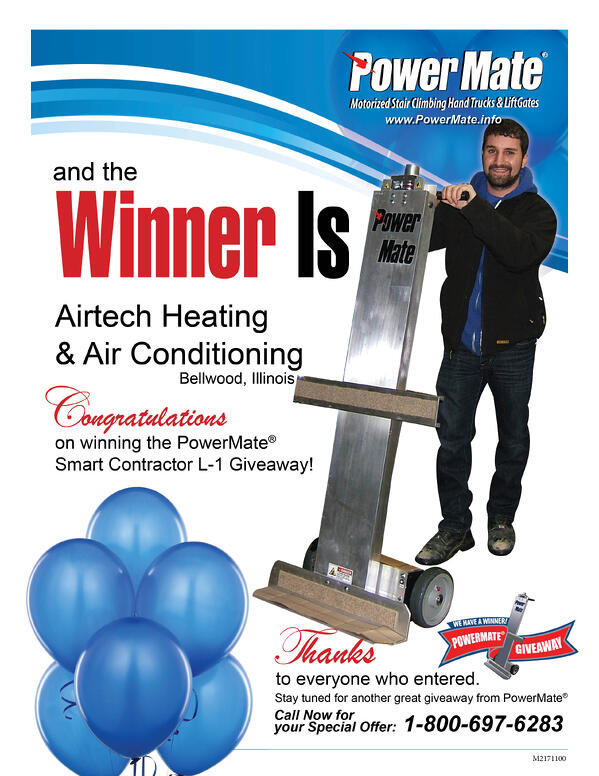 AIRTECH Heating & Air Conditioning Corp.
229 Mannheim Rd.
Bellwood, IL 60104
Phone: (708) 547-5511
Fax: (708) 547-5093
Email: airtechheating229@comcast.net
Website: www.airtechcorp.com
For those of you that have yet to implement a PowerMate solution for your business: You don't have to wait to win a PowerMate! You are invited to contact PowerMate or visit the special HVAC Industry pages to learn more. Find out which PowerMate solution is right for you and start making your business more customer-focused and profitable today!