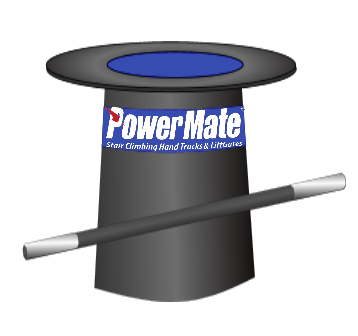 | | |
| --- | --- |
| | For more than 35 years, L P International Inc., the manufacturer of PowerMate, has worked with their customers providing custom safety lifting solutions for moving loads up to 1 500lb or 680kg. Over the years they have developed many different value-added solutions and discovered even more ways to make moving heavy loads safer, easier, and more efficient; some may even say, "Magical!" |
Climbing Slopes and Ramps:
If you have ever used a hand truck of any kind to go up a slope or ramp into a vehicle, then you know first-hand this can require a significant amount of effort and energy for the operator. PowerMate can help!
While this may not be the fastest way to get to the top, you can do it safely, with less effort, and with the operator or operators 100% in control of both the machine and the load. PowerMate trainers endearingly refer to this technique as the PowerMate Crawl.
The second application for this technique can be a real life saver! If you have ever been stuck in snow, mud, or sand with a conventional hand truck you can relate. By using the PowerMate Crawl technique, outlined above, you can get yourself out of just about any "sticky" situation. The repeated opening (making larger) and closing (making smaller) of the PowerMate frame as detailed above will ensure you should never get stuck, despite the terrain.
For the heaviest of loads, you will find the M-Series Wheel Brakes create more stability and further reduce the operator effort by as much as 30%. The Wheel Brakes create a larger surface area; especially helpful when you are bearing down to close the machine going up a grade.
Descending Slopes and Ramps:
This does not require a great deal of explanation. PowerMate offers the option of either hand operated wheel brakes or "shoe" style wheel brakes for all their stair climbers.
The Trick?
What many people are unaware of is: the most common way PowerMate users slow down or stop on a slope or ramp is with the help of the "open" button on the PowerMate! By pressing the open button and making the frame larger, the toe plate will touch the ground and act as a brake, slowing down or stopping the machine on grade. This braking technique works for any PowerMate stair climbing model, with or without wheel brakes, big wheels, and even the retractable dolly in place!
PowerMate stair climbers feature a full length bottom rubber guard. This unique bottom rubber guard not only offer the advantage of protecting flooring surfaces of all kinds, but when descending slopes and ramps, acts as an ideal brake!
Sometimes the simplest solutions can work the best! Keep these "tricks" in mind he next time you are challenged with moving up or down a slope or ramp. PowerMate recommends practising these techniques yourself so that when you need them, you will be confident and proficient in how to use them.
Interested in learning more tips and tricks? Check back to the PowerMate Blog for the next post on the topic, or better yet,
to schedule on-site operator training for you and your people. Take advantage of more than 35 years of safety lifting experience and learn all the tips and tricks from a qualified PowerMate factory trained team member!
Read More