When marketing a product, a long-standing principle is to establish a brand identity. In 1976 when L P International Inc. opened its doors for business, we never imagined the impact that it would have on us!
Founded in 1982 as a manufacturing company for a line of powered hand trucks that could easily move heavy loads up and down stairs, L P International Inc. continued the evolution of its PowerMate safety moving systems. The PowerMate stair climbing hand truck quickly achieved an outstanding reputation in many industries — why struggle with a traditional hand truck for the backbreaking task of moving heavy loads up stairways or into vehicles, when the motorized PowerMate and its unique lifting mechanism could be easily maneuvered by a single operator? L P International Inc.'s business thrived, and over the next several decades, we launched many new models and a wide variety of accessories under the PowerMate brand.
Were we successful at establishing brand awareness? Yes! Consumers looking for high quality, durable, and versatile powered lifting equipment thought PowerMate, but this began to overshadow our identity as L P International Inc. The solution? Fusion. L P International Inc.'s strength lies in the design and development of PowerMate, the brand that allows us to be visible and accessible to our customers—worldwide. Although L P International Inc. is in no way disappearing, we have decided to stand proudly behind the PowerMate name.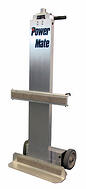 Thanks for taking the time to learn a little about who we are. We hope to see you back often. If you would like to learn more about our products and services, please visit our website.