Mr. Mark Gentilin, the Owner of Maple Heating LTD, recently visited L P International Inc. and was enthusiastic to share anecdote after anecdote about his experience with PowerMate stair climbing hand trucks. Many included his Customers watching in amazement, some even taking photos of Mark working with his PowerMate. The following provides just a glimpse of Mark's experience with the PowerMate stair climbing hand trucks over the past 5 years.
Mark began by recounting his visit to his Doctor after straining the muscles in his lower back - just over five years ago. Mark said to his doctor, "I have to carry water heaters and appliances in and out of houses; that is what I can do for a living". He then asked his doctor, "Can I continue to do that?" Mark's Doctor told him he wouldn't recommend it.
When Mark got home he told his wife and a family friend the not-so-good news. Mark's friend suggested he get a stair climber. Mark thought this was a joke but, humored his friend and Googled "Stair Climber". To Mark's surprise he found PowerMate®. Like many Canadians, very few people know what a stair climber is or what it can do and initially, Mark was no different.
After doing his on-line research, Mark and his wife Maria decided to drive from Maple, Ontario, to L P International Inc. (Brantford), for a live demonstration. They wanted to see for themselves first hand, if PowerMate was the right safety lifting device for them. The rest is history! Mark and his wife purchased the PowerMate Pogo-2 at the end of their demonstration - almost 5 years ago. Today, Mark has his Pogo-2 and has since purchased a PowerMate Model L-1. Mark is known to other local installation contractors and customers in the GTA as: "The Guy with the Machine"; a reference that brings a big smile to his face.

Mark takes great pleasure when he shows up at a jobsite and routinely gets asked, "Where is the other guy?", "How are you going to lift that by yourself? I can't help you." Mark proudly replies, "Here is the other guy: My PowerMate machine!" These types of customer reactions have helped Mark in gaining more referrals through word of mouth [than] advertising and helped him to continue to grow his business. More happy customers mean more business for "The Guy with the Machine".
Mark is a professional and believes in having all the right tools for the job. PowerMate, without question, is one of those tools! He is extremely innovative, proficient and resourceful in the use of his PowerMate stair climbing equipment. Using his experience and a little bit of ingenuity, Mark has even completed installations involving taking product up spiral stair cases with his Pogo-2. He has very effectively incorporated the use of the "All Dolly" and Pogo-2 for installations of stackable washers and dryers, double ovens and other built-in appliances, for example (photos below).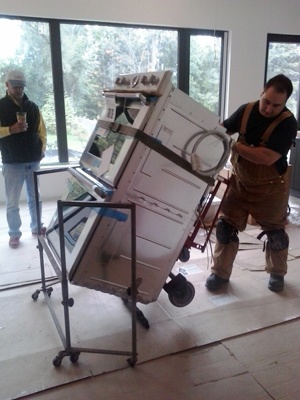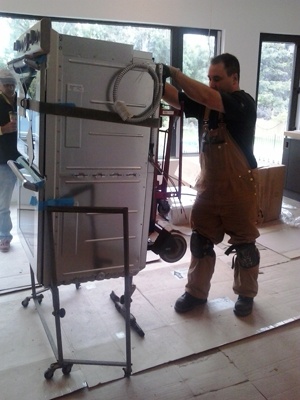 | | |
| --- | --- |
| | Mark spoke fondly of an installation he had to complete in the winter involving moving a double oven from a customer's garage into the house for installation. There was two feet of snow on the ground at the time and the customer was unable to clear his driveway. The customer said, "Others have tried to move the ovens into the house and failed, you would need snowshoes or some kind of all-terrain cart to have any chance of getting the ovens out of the garage and into the house". Mark replied, "No problem! That is exactly what I have." To his customer's amazement, using the PowerMate Pogo with the rough terrain cart attachment, Mark was able to raise the ovens and roll right through the two feet of snow and complete the installation. Once again, mission successfully accomplished! |
| | |
| --- | --- |
| With PowerMate, Mark rarely misses a day of work due to illness or injury and is happy his back is not an issue. Mark vividly remembers another day when he cut his hands so badly, he had difficulty even using a wrench. However, the next day had no problem installing and removing two electric water heater tanks with the Pogo-2. Mark said, "Installing the water heaters would have been impossible for me without my PowerMate. I remembered all I needed was my fingers, so I could still push the open - close buttons on my Pogo". | |
The PowerMate does the heavy work so Mark and his Team don't have to. Creating a safe work environment, protecting the customers' property and product against damage are the highest priorities for Mark and the Team at Maple Heating LTD. It is all about service and providing people with a superior customer experience.
When asked about PowerMate wheel brakes Mark had this to say, "The shoe style wheel brakes on my Pogo are invaluable when I have to negotiate older wooden stairs, decks and steel steps that are slippery when wet or covered with ice or snow". The wheel brakes create a larger more stable surface area – allowing Mark to use the "PowerMate Crawl" technique to safely overcome these and other obstacles he faces on the jobsite.
Using PowerMate has allowed Mark to continue to work and work safely. According to Mark, PowerMate has reduced the manpower required to complete an installation from 3-4 people to 1 or 2. This has had a very positive financial impact on Mark's business and has allowed him to double and even triple his billable hours.

"I Love my PowerMate stair climbers especially, my Pogo-2. It is one of, if not the best, investment I ever made". Without hesitation Mark went on to say, "The PowerMate stair climbers have paid for themselves over and over again. They [PowerMate machines], owe me nothing, they only make me money."

Congratulations Mark, keep up the great work!

If you're in the GTA, remember Mark at Maple Heating LTD.:

"The Guy with the Machine"!

Maple Heating LTD
Mr. Mark Gentilin, Owner
HVAC Installation – Sheet metal –
Residential & Commercial
24 Hour Service
e-mail: mmgentilin@hotmail.com
Phone: (416) 655-6574