PowerMate POGO P-2 Stair Climber
POGO P-2 light duty motorized stair climbing hand truck
The POGO P-2 is our lightest stair climber and is ideal for lifting jobs up to 220 lbs. Used extensively in the home medical equipment (HME) market, the POGO helps prevent injuries due to lifting strain. The POGO is easy to use and has a 32" lifting height and can load itself - and your load - into vehicles. The POGO P-2 comes with wheel brakes, sealed gel rechargeable battery and charger.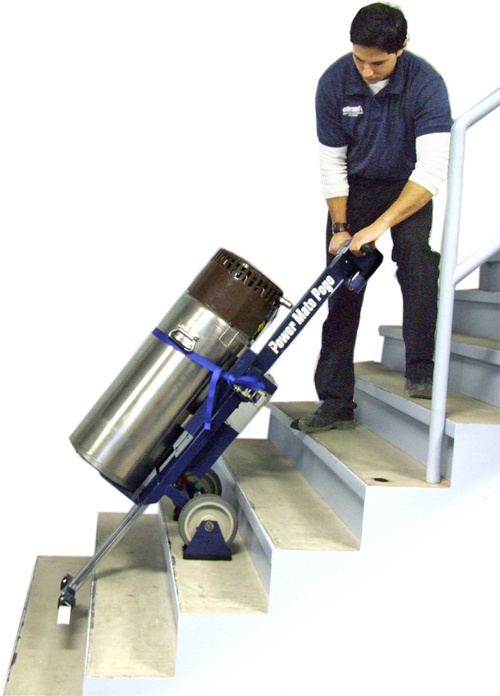 The POGO P-2 is the ideal moving solution for moving home oxygen vessels.
PowerMate POGO P-2 Advantages
Size: The P-2 is relatively light and has a small foot print - ideal for home delivery.
Lifting capacity is 'right sized' for your applications at 220 lbs.
Reduces property and product damage by keeping the load under control during the move.
Contributes to your image of professionalism.


Contributes to jobsite safety by reducing jobsite injuries and injury claims. Tell me more about injury prevention and the potential savings I can expect by using a PowerMate on the job site.
The POGO P-2 comes standard with wheel brakes.
Backed by the manufacturer! We not only provide stair climbers and LiftGates but also complete moving solutions including superior customer service and training.
Our 1-800 number is prominently displayed on your PowerMate. Our customer service personnel are always happy to help with on-site support.
PowerMate POGO P-2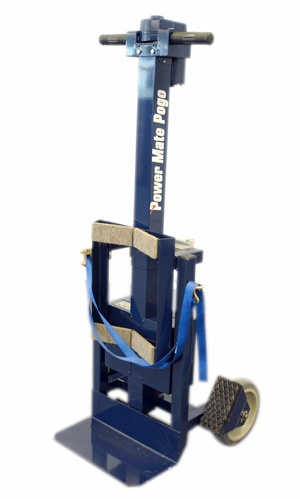 Specifications
Extruded Aluminum frame.
.65 Kilowatt High Efficiency DC Motor
Fully Automatic Braking System
Super-Efficient Ball Screw Drive
End Stop Override Clutch
Rocker Switch (Up/Down) Operation
Non Marking Tread Wheels 8" diameter
Powered by Sealed 12V Maintenance Free Rechargeable Battery
Strapbar And Cradle Attachment
Load Protective Felt
Solid Steel axle 5/8" Diameter
Lifting Height 32"
Overall Weight 68 lbs. (31 kg)

Lifting Capacity - 220 lbs.
PowerMate POGO P-2 Standard Equipment
The PowerMate POGO P-2 comes equipped with Battery Pack, Battery Charger and Wheel Brakes.
Accessories available for P-2
In-vehicle Battery Charger, Cradle attachment for cylinders or vessels.
PowerMate POGO P-2 Loading Specifications

Maximum capacity
Lifting Height
Weight
Overall W x D x H

100 kg
810 mm
31 kg
560mm x 480mm x 1220mm

220 lbs.
32 inches
68 lbs.
22 " x 19" x 48"