PowerMate M-2B Stair Climber
PowerMate M-2B - the heavy duty commercial stair climber
The PowerMate M-2B PowerMate is a powered, heavy duty stair climber with a capacity to move loads up to 1,500 lbs. The M-2B has eight inches of extra height to accommodate taller loads like built-in appliances, vending machines, visi coolers, safes, switchgear, commercial hot water tanks and man lifts.
The PowerMate M-2B Advantage
For a comparison of all our safety moving products visit our PowerMate products page.
The PowerMate M-2B is four machines in one: a powered stair climber; a powered tailgate lift; a loading dock leveler and a well-balanced dolly. The following list provides a quick reference to some of the advantages attributed to the PowerMate M-2B stair climbing hand truck.
Does 100% of the lifting so you don't have to!

A powerful labor saving device that can help reduce costs and contribute to profitability.

Reduces property and product damage by keeping the load under control during the move.



Contributes to your image of professionalism.

Reduces the physical effort to move heavy loads by 87%.

Contributes to jobsite safety by reducing jobsite injuries and injury claims.

Moves heavy loads with half the labor! Jobs that required two people to move without a PowerMate now take just one! Jobs that previously required four people can now be safely completed with just two in most cases!

Carries the weight on the heavy duty outer frame which reduces the chance of bending or twisting.

Comes complete with a built in 'hook bar lever' that can be used with an installed vehicle hook box to assist with vehicle loading. The Hook Bar also doubles as a leverage bar to assist with maneuvering heavy loads.

Retractable wheels convert the M-2B into a four-wheel dolly which makes flat surface rolling a breeze!

Ability to roll in a completely horizontal position, allowing the machine and load to pass through low doorways with ease!





Comes complete with a full length bottom rubber guard that protects all surfaces during moves and also acts as an anti-skid contact.

Has a 12v, 32 AH sealed gel maintenance free battery that is leak proof and will last on average from 4-7 years. Together with our high-efficiency drive screw design the M-2B will move a 500 lb. load up AND down 20 flights of stairs on a single charge!

Backed by the manufacturer! We not only provide stair climbers but also complete moving solutions including superior customer service and training.

Our 1-800 number along with our load moving guidelines are prominently displayed on your PowerMate M-2B. Our customer service personnel are always happy to help with on-site support.

High capacity, high quality solid steel stair climber able to handle the most demanding jobs.

Strapbars can be positioned strategically along the frame to secure various size loads.



Your PowerMate in Action
Every consideration was given to make your PowerMate the most ergonomically friendly lifting device on the market. For example, all our operator controls are strategically positioned on the top of the machine between the hand grips. The drive screw brake is always engaged until the operator activates the controls. This safety feature prevents unnecessary load movement.
The wheels on a PowerMate lift up and out of the way reducing the overall footprint of the machine – ideal in a tight spot like narrow stairwells and landings. This feature is also why you are able to break back the load with such relative ease; with the wheels out of the way, the effort to pull the load back onto the wheels is dramatically reduced. Once the machine and load are back onto the wheels, you are now in a well balanced position - with no effort required to keep the load in balance! You can even let go of the machine at this point! A handy feature on stairwells should you have to open a door or even answer your phone. This is impossible with a regular hand truck and is a major advantage in owning a PowerMate.
All PowerMates are manufactured with solid state controls which reduce the draw on the battery adding to your daily operational battery life. Another advantage of solid state controls (unique in the industry) is the "soft start" feature. This further increases safety by reducing sudden movements during start up and results in the smoother operation of the machine. The new controls also make servicing and maintenance as easy as 1-2-3!
The M-2B comes complete with retractable wheels that convert your PowerMate into a four-wheel dolly for flat surface rolling. The extra wheels can be deployed and retracted while the machine is loaded.
These quality features contribute to the lowest total cost of ownership on the market. To find out how an M-1, M-2B or M-2C will contribute to the safety and profitability of your business speak with a Solution Specialist today. 1-800-697-6283 or leave your contact information and a Solution Specialist will contact you at your convenience.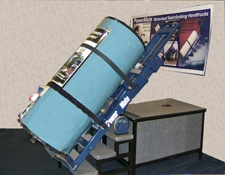 The PowerMate M-2B is the machine of choice for moving commercial hot water heaters. With eight extra inches of height, the M-2B has the right amount of leverage to easily move these heavy items.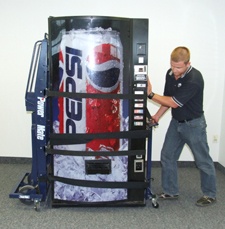 The TwinLift Attachments allows the operator to swivel the load in 360 degrees of arc for perfect and easy product placement.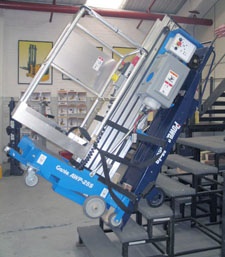 All PowerMate Stair Climbers are well-balanced dollies. The unique three point balancing design means the operator can step away from the machine temporarily to open doors, move obstacles or even answer their phone!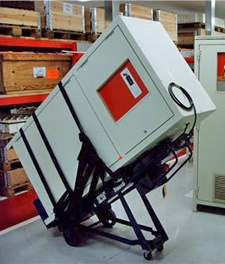 The M-2B comes with a retractable dolly to assist with maneuvering loads on a flat surface. The two retractable wheels can be deployed even when the machine is loaded!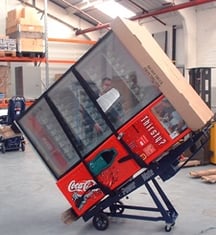 The M-2B comes equipped with 14 foot straps to safely secure the larger loads this model is built to handle.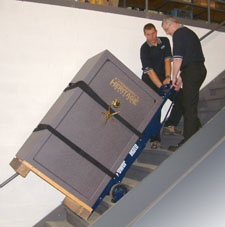 The M-2B is 8 inches taller than the M-1 stair climber making it easier for the operator to maneuver tall loads like built-in appliances or large vending machines. Safe movers love the M-2B because of the extra height and the 1,500 lb. capacity.
PowerMate M-2B Specifications

Fully Automatic Braking System

Override Clutch

Drive Screw Top Guard

Rugged Steel Outer Frame Carries Load

Machine 27"W x 17"D x 68" High

Machine Weight 185 lbs.

Heavy Duty Control Switches

Two Adjustable Strapbars 26" Length

Bar

and

Plate Felt - Protects Loads

Heavy Duty Reinforced 14' Straps

Quick Release Safety Locking Cam

Super Efficient Drive Screw

.65 Kilowatt High Efficiency DC Motor

Retractable 2-Wheel Dolly

Leverage Bar

Sealed Battery 12V 32 AH Maintenance Free

and

Rechargeable

Puncture Proof Wheels 8" Diameter

Toeplate 27"W

Anti-Skid Protector On Heel Of Machine

Lifting Height 40" (101.6 cm)

Machine Capacity 1500 lbs. (682 kg.)

Overload Protection

Solid State controller

Advanced Electronic Microprocessor
PowerMate M-1 Standard Equipment:
The PowerMate M-2B Stair Climber comes complete with: two strapbars, one hook bar, one 12V sealed long life battery, a battery cover, one two-wheel retractable dolly, and one battery charger with auto shut-off and multi voltage feature.
Full List of M-2B Accessories:
Hook Box

, Cylinder Attachment

, Extended Toe Plate Width

, Extended Toe Plate Depth

, Skid Plate

, Face Plate

, Wheel Brakes

, Big Wheel Attachment
, In-Vehicle Battery Charger

, Side Handles, TwinLift.
PowerMate M-2B Loading Specifications


Flat Surface Moving
Stair Climbing
Tailgate Lifting

One person
650 lbs. (295 kg.)
500 lbs. (227 kg.)
450 lbs. (204 kg.)

Two people
1,500 lbs. (682 kg.)
1,000 lbs. (454 kg.)
1,000 lbs. (454 kg.)
Above weights are based on qualified operators moving loads that have the weight evenly distributed all along the frame.