PowerMate M-2C Stair Climbing Hand Truck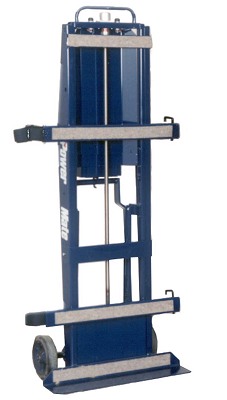 PowerMate® Model M-2C


Fully Automatic Braking System
Override Clutch
Drive Screw Top Guard
Rugged Steel Outer Frame Carries Load
Machine 27"W x 17"D x 68" High
Machine Weight 185 lbs.
Heavy Duty Control Switches
Two Adjustable Strapbars 26" Length
Bar

and

Plate Felt - Protects Loads
Heavy Duty Reinforced 14 ft. Length Straps
Quick Release Safety Locking Cam
Super Efficient Drive Screw
.65 Kilowatt High Efficiency DC Motor
Retractable 2-Wheel Dolly
Leverage Bar
Sealed Battery 12V 32 AH.
Maintenance Free

and

Rechargeable
Puncture Proof Wheels 8" Diameter
Toeplate 27"W
Anti-Skid Protector On Heel Of Machine
Lifting Height 48" (121.92 cm)
Machine Capacity 1500 lbs. (682 kg.)
STANDARD EQUIPMENT:
Model M-2C comes complete with: two strapbars, one 12V sealed long life battery, a battery cover, one two wheel retractable dolly, and one battery charger with auto shut-off and multi voltage feature, and one hook bar leveler.
LOADING SPECIFICATIONS


Flat Surface Moving
Stair Climbing
Tailgate Lifting

One person
650# (295 kg.)
500# (227 kg.)
450# (204 kg.)

Two people
1500# (682 kg.)
1000# (454 kg.)
1000# (454 kg.)

Above weights are based on qualified operators moving loads that have the weight evenly distributed all along the frame.