PowerMate Document Imaging Copier Overview - Welcome
POWERMATE® Industry solutions Document Imaging Copier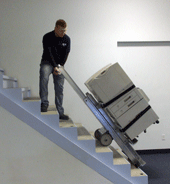 Document Imaging Copier
PowerMate is safety moving system of choice for professionals in the Document Imaging / Copier and Office Equipment Industry. Our products are highly adaptable to lift a wide array of products such as: Photo Copiers, Office Products and Supplies, Safes, Computer Hardware, Office Furniture. If you're using a conventional hand truck or carrying it today… PowerMate can help!
Provides a short term R.O.I.

that is sustainable.

Promotes Safety

- Requires 87% less effort.

Reduces the chance of personal injury

and resulting costs.
(Averaging costs are over $29,000 per incident)

Reduces labor costs

- complete jobs with fewer people, increase billable hours.

Protect product and customer premises

avoiding costly damage.

Grows your business

through increased referrals and repeat business.

Increases efficiency and productivity

- PowerMate does 100% of the lifting of loads weighing up to 1500lbs/680kg. powers loads up/down stairs, on/off vehicles.

Improves your ability to service more customers

during peak seasonal periods.
Differentiates yourself from your competitors and creates a professional image -

Be seen as a leader and implementer of best practices

.