PowerMate Appliance Overview - Referrals
POWERMATE® Industry solutions Appliance

APPLIANCE COMPANIES LOVE THEIR POWERMATE!
In over 30 years of business, PowerMate has already sold to many appliance companies in your industry. They have enjoyed having PowerMate on their team so much that they have emailed and written their stories to share with us and with you.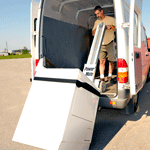 We know you can accomplish this through cutting labor costs, adding billable revenue, increased efficiency and gains in productivity. We also know that reducing the incidence of injury as well as lowering the risks of product and property damage will also enhance your bottom-line.

APSCO APPLIANCE CENTERS
"Thanks again for all your help. With the PowerMates we have we are doing some jobs that normally we wouldn't attempt and the competition won't do. If you need any references, please have them call me."

HUNTER'S MAYTAG HOME APPLIANCE CENTER
"...We found the perfect match with your PowerMate Handtruck to take care of all our appliance handling. It's used for inbound freight, prepping appliances, warehouse moving and all deliveries. It keeps our appliance handling very safe and most of all efficient .. I mentioned it pays me back every month; this is the savings in wages that I would have had to pay a delivery helper. This PowerMate Handtruck makes appliance handling a one man show! I recommend this product to anyone who moves appliances. I know one has to be careful about product endorsements, but this one is worthy and will create beneficial results for all parties .."

M & H TRUE VALUE and JUST ASK RENTAL
"This is the only way to be competitive in this cut throat market. Recently I delivered a 28 cubic foot side by side up 14 flights of stairs by myself. It's becoming a good rental item as well in our Just Rental department. This unit make going through a tight spot a cinch. I would recommend one to every appliance dealer."

JACKSONS MAYTAG HOME APPLIANCE CENTER
"My wife and I own and operate a Maytag Home Appliance Center, and the only thing better than owning one L1 PowerMate dolly, is owning two! .. Last year I personally delivered approximately 95% of all the appliances we sold by myself, saving on mostly delivery personnel. ..P.S. It should be noted that I injured my back before I purchased my first L1, but with the help of the L1 I can do a good days work every day."

VALMAT DELIVERY
"...The maneuverability of the PowerMate is nothing short of 'Unbelievable'! It takes appliances through tight doorways and narrow corridors without concern of damage to the property or the merchandise .."
Read MORE customer testimonials!