PowerMate Document Imaging Copier Overview - Referrals
POWERMATE® Industry solutions Document Imaging Copier

DOCUMENT IMAGING AND COPIER COMPANIES LOVE THEIR POWERMATE!
In over 30 years of business, PowerMate has already sold many Document Imaging / Copier and Office Product companies in your industry. They have enjoyed having PowerMate on their team so much that they have emailed and written their stories to share with us and with you.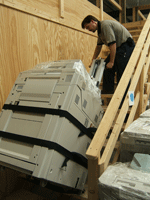 We know you can accomplish this through cutting labor costs, adding billable revenue, increased efficiency and gains in productivity. We also know that reducing the incidence of injury as well as lowering the risks of product and property damage will also enhance your bottom-line.

GLOBAL SERVICES
"I just wanted to take a second to write to you about the PowerMate stair climber we purchased from you, that machine is awesome it has saved us over $500.00 the first week we received it. I'm sure it will pay for itself over and over, glad I found your website."

MCALLISTER INC.
"This equipment has saved us literally hundreds of dollars by allowing us to send one technician to a job rather than two...We were especially pleased that we received such thorough training on the equipment when it was delivered. As safety is such an important factor...having qualified personnel operate the PowerMate Model L-1 is reassuring for both the employees and customers. It is truly a "back saver"!"

THELANDER
"Just a quick message to let you know how much we enjoy our new PowerMate LE-1...What a wonderful piece of equipment! With the forklift, I can raise or lower load and now do by myself...I have sang praises to this unit and will continue to refer new customers to you."
Read MORE customer testimonials!