PowerMate Food and Beverage - Referrals
POWERMATE® Solutions for the Food & Beverage Industries

FOOD SERVICE & BEVERAGE COMPANIES LOVE THEIR POWERMATE!
In over 30 years of business, PowerMate has already sold to many companies in your industry. They have enjoyed having PowerMate on their team so much that they have emailed and written their stories to share with us and with you.
We know you can accomplish this through cutting labor costs, adding billable revenue, increased efficiency and gains in productivity. We also know that reducing the incidence of injury as well as lowering the risks of product and property damage will also enhance your bottom-line.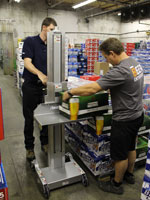 LEE DEE VENDING / CANTEEN
"We purchased a PowerMate Stair Climber hand truck from LP International INC back in September 2012 and have nothing but great results from this product. We use it daily to carry 12oz and 20oz beverages up 25-30 stairs daily, seven day a week, also use it when needed to install vending machines up stairs to break areas. We have used other brands in the past, they did not hold up like the PowerMate L series. I would recommend this stair climber to anyone looking for a durable reputable piece of Stair Climber equipment."
Read MORE customer testimonials!