PowerMate Home Medical Equipment Overview - Referrals
POWERMATE® Industry solutions Home Medical Equipment

HOME MEDICAL COMPANIES LOVE THEIR POWERMATE!
In over 30 years of business, PowerMate has already sold to many HME delivery companies. They have enjoyed having PowerMate on their team so much that they have emailed and written their stories to share with us and with you.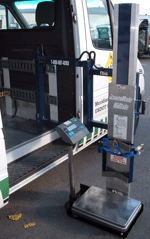 We know you can accomplish this through cutting labor costs, adding billable revenue, increased efficiency and gains in productivity. We also know that reducing the incidence of injury as well as lowering the risks of product and property damage will also enhance your bottom-line.

BRYANT PHARMACY AND SUPPLY
"I just wanted to let you know how much more efficient our delivery service is with the PowerMate Pogo. Before we purchased your product, we worked much harder and risked injury using conventional handtrucks for our liquid oxygen deliveries. PowerMate Pogo is a back saver and a time saver. Thanks!"

NEIGHBOR CARE
"Employees are enthusiastic about the potential of the PowerMate to reduce their risk of injury. It's easy to imagine what a safety upgrade and morale booster the PowerMate becomes by the twelfth or thirteenth delivery of the day!"

VILLAGE PHARMACY
"My first delivery was a 1200 lb safe. Only had 2 men come and help. No matter what the machine cost it was worth it."

LADY DUNN GENERAL HOSPITAL
"... paid for PowerMate the first week they had it. Really saves the back."

Read MORE customer testimonials!