PowerMate Home Medical Equipment Overview - Your Load
POWERMATE® Industry solutions Home Medical Equipment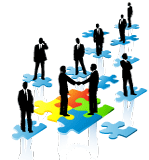 POWERMATE MATCHES YOUR NEEDS!
At PowerMate we know that a good fit means better usage. That is why we are committed to your specific needs. We are here to learn about you and your business and we will make sure you have the best machine(s) to match your load moving requirements.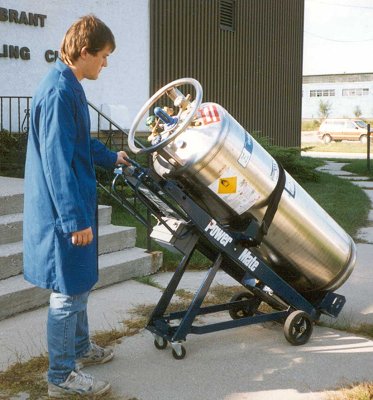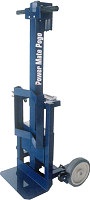 POWERMATE POGO-2
power lifts and lowers loads up and down stairs, curbs, thresholds and loading docks
specifically designed for the home health care market.
reduces effort required to deliver loads into homes by 87% or more.
includes non-stop rubber foot guards and wheel brakes for greater safety on stairs.
has non-marking wheels for superior customer satisfaction during all home deliveries.
ideal for lifting products such as liquid oxygen reservoirs, compressed gas cylinders, motorized wheel chairs, massage chairs, medical equipment, boxes of dialysis supplies, office equipment and more.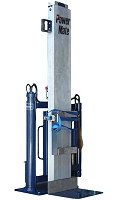 POWERMATE LIFTGATE
very compact, taking up less than 1½ feet of square space so your van or truck can hold more - and deliver more - products in one day.
power lifts your load with the simple push of a button and swings into your vehicle - out of the way and out of the weather.
the World's first compact interior tailgate lift.
perfect for cube vans, cargo vans, trucks and other delivery vehicles.
ideally suited for home oxygen reservoir delivery services.
ability to position the load within the vehicle for optimal use of space.
available in left or right hand, side door or back door installation.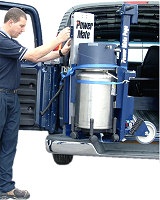 Use the PowerMate LiftGate in conjunction with the PowerMate Pogo-2, and you have the optimal load management system. Each driver will have the equipment to independently move heavy and awkward loads on and off vehicles, over curbs and thresholds, up and down stairs and into customer homes without risks of driver injury or product/property damage.