PowerMate Moving Overview - Referrals
POWERMATE® Industry solutions Moving

MOVING COMPANIES LOVE THEIR POWERMATE!
In over 30 years of business, PowerMate has already sold to many Moving companies in your industry. They have enjoyed having PowerMate on their team so much that they have emailed and written their stories to share with us and with you.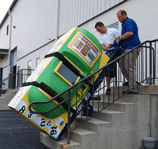 We know you can accomplish this through cutting labor costs, adding billable revenue, increased efficiency and gains in productivity. We also know that reducing the incidence of injury as well as lowering the risks of product and property damage will also enhance your bottom-line.

AMJ CAMPBELL - CANADA'S LARGEST MOVING COMPANY
"I spoke to both my drivers about the product. They said that the training prior to the use of the PowerMate was invaluable. After the training they moved two 1400lbs safe up to a second floor location…Many thanks for all your assistance. We look forward to dealing with you and your company in the future."

EVERITT-MOORE LUMBER COMPANY
"This letter is about the performance of the electric dolly (PowerMate) that we purchased…It is a wonderful tool, it cuts down on manpower, time, and damage to the appliance that I sell and deliver. I personally could not do my job without it."
Read MORE customer testimonials!