PowerMate Rental Overview - Business
POWERMATE® Industry solutions Rental

YOUR BUSINESS IS OUR BUSINESS
At PowerMate we measure our success by your success. We want you to start profiting with your PowerMate investment immediately.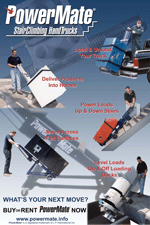 At PowerMate we recognize that every Rental Location is different based on their geographic location and customer base. We don't take a "one-size fits all" approach to providing Rental Store Solutions. At the end of the day, it's all about helping you realize a profit and grow your business based on your unique set of goals. Contact us today to learn more about what customized PowerMate Solution will meet your requirements the best!


WHO IS POWERMATE?
L P International Inc., the manufacturer of PowerMate, has been providing solutions to businesses for over 30 years - worldwide. As the market leader and innovator, we pride ourselves in working with our customers in providing Complete Moving Systems.
WHY DO I NEED POWERMATE?
Just ask our customers, they tell us they can't do without it. Initially, many customers
look at PowerMate without understanding the true value of the product. They
soon recognize that PowerMate® delivers a substantial return on
investment obtaining an R.O.I. of 5:1 in the first year alone.
WHAT MAKES POWERMATE DIFFERENT?
We believe that our relationship with our customers does not
stop with the sales, it begins! In addition to our commitment
to work with our customers in delivering solutions, we
offer the highest quality engineered product, with the
best in class post sales, service support and world
class operator training!