PowerMate Rental Overview - Referrals
POWERMATE® Industry solutions Rental

RENTAL CUSTOMERS LOVE THEIR POWERMATE!
In over 30 years of business, PowerMate has already been used by individuals and companies moving or renovating, maintenance professionals including; Contractors, Schools, Colleges, Institutions, Property and Facility Managers… throughout the world They have enjoyed having PowerMate on their team so much that they have emailed and written their stories to share with us and with you.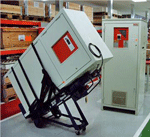 We know you can accomplish this through cutting labor costs, adding billable revenue, increased efficiency and gains in productivity. We also know that reducing the incidence of injury as well as lowering the risks of product and property damage will also enhance your bottom-line.

BUTTREY RENTAL SERVICE
"Since we purchased the PowerMate ..., it has been rented out on a regular basis. It is quite popular with our customers, especially those in the heating and plumbing trade...The hand truck turns a hazardous multi-person job into a safe and easy one-person task...we have truly seen the value of our investment. We are very pleased with your product."

ROUTE 12 RENTAL
"We have, as have our customers, been very pleased with all aspects of the M-1 hand truck. We are extremely pleased because it is generating many rentals that otherwise would not have been possible with a standard hand truck and only one operator. It has had excellent results. The return on this piece of equipment is very good. In our area we are able to rent it for a premium price because it serves a function that not just any rental or hand truck can provide."

TRUE VALUE HARDWARE
"Just a note to let you know how well we like our new PowerMate power lift. It has turned jobs that used to be difficult, two man jobs into easy, one man jobs. It has made the job of moving heavy appliance loads not only easier and faster but also safer!"
Read MORE customer testimonials!