PowerMate Lock & Safe Overview - Referrals
POWERMATE® Industry solutions Lock & Safe

LOCK & SAFE COMPANIES LOVE THEIR POWERMATE!
In over 30 years of business, PowerMate has already sold to many Lock & Safe companies in your industry. They have enjoyed having PowerMate on their team so much that they have emailed and written their stories to share with us and with you.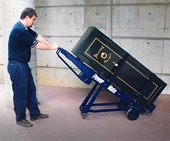 We know you can accomplish this through cutting labor costs, adding billable revenue, increased efficiency and gains in productivity. We also know that reducing the incidence of injury as well as lowering the risks of product and property damage will also enhance your bottom-line.

A-ABLE LOCKSMITH
"We found the balance spot and love the PM, promote it everywhere we go. We have a sprinter van and are happy we don't need 2 people for deliveries."

J.W. PAWN
"Love the machine! Can do a 500lb safe by myself."

VILLAGE PHARMACY
"My first delivery was a 1200 lb safe. Only had 2 men come and help. No matter what the machine cost it was worth it."

ZACK'S SPORTS INC.
"I really like the machine, it does everything PowerMate said it would do."

THOMPSON'S LOCKSMITH
"Best piece of machinery we have ever bought. Machine has done everything we have expected and then some"
Read MORE customer testimonials!