PowerMate Utilities Overview - Referrals
POWERMATE® Industry solutions Utilities

UTILITIES AND POWER GENERATION COMPANIES LOVE THEIR POWERMATE!
In over 30 years of business, PowerMate is purchased by many service and maintenance professionals in the Electric, Gas, Water Utilities and Power Generation Industries throughout the world. They have enjoyed having PowerMate on their team so much that they have emailed and written their stories to share with us and with you.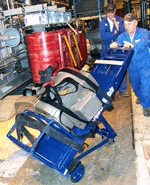 We know you can accomplish this through cutting labor costs, adding billable revenue, increased efficiency and gains in productivity. We also know that reducing the incidence of injury as well as lowering the risks of product and property damage will also enhance your bottom-line.

BELL CANADA
"...PowerMate has proven to be a very sound investment. We deliver and move heavy and bulky switchboards and the PowerMate has greatly simplified our operation, particularly when we come across stairways. These jobs are now accomplished efficiently, safely and at a more economical cost."

RIEKER ELECTRIC
"I am writing to you about the satisfaction I have had with the PowerMate...I use the PowerMate daily for moving home appliances, residential boilers, water heaters, etc. Little effort is needed to use the PowerMate effectively…The heavy duty construction, power, and speed of the drive system amazes me."
Read MORE customer testimonials!