PowerMate Utilities Overview - Value Added
POWERMATE® Industry solutions Utilities
VALUE ADDED ACCESSORIES FOR YOUR INDUSTRY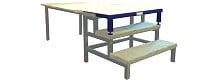 STEP EXTENSION with MAT ASSEMBLY - 304620
Perfect for small landings and tight turns, the Step Extension with Mat Assembly can be placed at the top or bottom of a stair case to create more room and a better turning surface for maneuvering your PowerMate with its load. This accessory gives you the ability to complete even more installs and removals than ever before!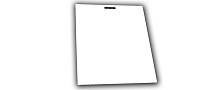 PIVOT PAD - 304200 / 304210
Available in 2 sizes, the Pivot Pad is made of durable material which allows you to turn the PowerMate, with its load, on a dime. Move your loads effortlessly around tight corners while protecting your customers property.


M-SERIES HOOK BOX - 400090
Steel box with fold down brass hook that mounts flush in the bed of a truck, or on the loading dock to assist in the loading and unloading. Use the M-Series Fold out leverage bar to safely secure the machine and load and let it help do the work for you.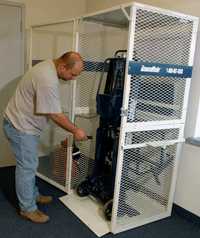 DOCKING STATION - 406400
Secure PowerMate where you store it easily and quickly whether on the jobsite, in the back room, or the warehouse. Open wire mesh design allows for quick visual inspection. Shelving and hooks for attachment storage and battery charger.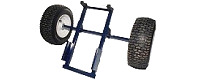 BIG WHEEL - 404300
The Big Wheel attachment mounts onto the frame of an M Series unit in seconds. With the Big Wheel All Terrain attachment in place it is easy and safe to move heavy loads across gravel or grass, through mud and snow, as well as over train tracks and other obstacles.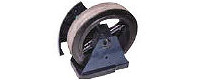 WHEEL BRAKES - 404100 / 414100
Wheel Brakes increase safety while moving heavy loads on stairs. They reduce the effort to move heavy loads by an additional 30%. Conveniently flips into place with simple foot activation.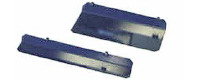 EXTENDED TOEPLATE WIDTH & DEPTH - 400180 / 400110
The Extended Toeplate Width or Depth provides added safety in securing the load to the machine. Ensures the load is safe and supported at all times from the bottom.