PowerMate® sikkerhetsflyttesystem.
L P International Inc. og PowerMate®-serien med traller tilbyr en sikrere måte for å flytte stor og vanskelig last. En PowerMate® motordrevet trappetralle er en tohjuls tralle med en integrert, batteridrevet løftemekanisme. Den motordrevne heisen gir operatørens trykknapp kontroll til å drive last opp og ned trapper, på og av varebiler, og inn og ut av bygninger. PowerMate® er fire maskiner i én. Den går i trapper, er en flyttbar lastelemheis, en lasterampe-nivellerer, og en velavbalansert tralle utviklet for enkel, sikker og effektiv flytting av tung og vanskelig last.
PowerMate® motordrevet trappetralle utfører 100 % av løftingen, og eliminerer praktisk talt risikoen for ryggskade samtidig som den reduserer påkjenningen med å flytte tung og vanskelig last med mer enn 50 %! Den har en lastekapasitet på opp til 1500 pund, og trappegående PowerMate® brukes for sikker flytting av gjenstander som varmtvannstanker, dampkjeler, fyrkjeler, gassflasker, store apparater, kontormøbler, rørlegger- og oppvarmingsutstyr, restaurantutstyr, salgsautomater og mye mer. Gjenstander som normalt ville kreve 2-3 menn til tradisjonell flytting, kan utføres av bare én person med vår tralle.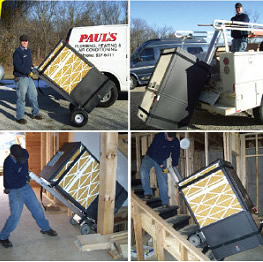 PowerMate® løftelemmer er det perfekte tilbehøret til de andre maskinene våre - eller som en selvstendig assistent. Perfekt for flytting av last på opp til 500 lbs på og av kjøretøy, inkludert kassevogner og store og små varebiler. Disse innvendige lastelemheisene har et svært lite fotspor og drives av det elektriske systemet til kjøretøyet.
PowerMate® motordrevete trappeklatrere og løftelemmer vil spare deg penger, ryggskader og verdifull tid. PowerMate® sikkerhetsflyttesystemer - - den smarte og lønnsomme måten å flytte produktene dine på en sikker måte.
Vi inviterer deg til å ta en tur innom nettsiden vår for mer informasjon om våre motordrevete trappeklatrere. Alt innhold på siden er på engelsk. All korrespondanse må også være på engelsk.
Klikk her for å gå inn på vår hjemmeside
To learn
more

about the PowerMate® Safety Moving Systems, the worlds #1 motorized electric stairclimbing HandTrucks, please fill in this form.

Please tell us who you are ..

* (required fields)
<>By supplying us with your information, you grant us permission to contact you periodically with updates on PowerMate Products. At any time you may unsubscribe. We will not share your information. See our
Privacy - Terms Of Use
for more details.
Thank you for your interest in PowerMate.