PowerMate® HandTrucks & Stairclimbers, Accessories and Parts
LE-1 Dolly Attachment
| | | |
| --- | --- | --- |
| Depth | 4 inch | 10.16 cm |
| Width | 14½ inch | 36.83 cm |
| Height | 25½ inch | 64.77 cm |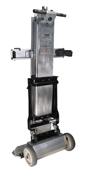 Accessory shown above on L-1 Model.
*Purchase offer only valid during initial sale of your PowerMate; not available for aftermarket sale.
Designed for flat rolling surfaces, the LE-Series Retractable Dolly serves a range of applications:
Facility and property managers will appreciate the four-wheel dolly option for moving loads around large buildings with hallways.
Plumbing and HVAC professionals will appreciate the added convenience the dolly provides for the movement of water heaters, furnaces and geothermal units.
For appliance movers the same great dolly feature previously only available on the M-Series machines is now available for standard white goods and mid-weight loads.