PowerMate M-1 Elevator Package
Get the PowerMate Advantage for Mods and Repairs
For over 30 years PowerMate has been proven in the elevator industry to move sheaves, motors, generators, controllers, drums, test weights, cables and more. Why not let PowerMate get you to the top?
Higher productivity - smaller crews can move bigger loads more efficiently.
Less time on site - loads go right up the stairs, no wasted time setting up and tearing down rigging.
Enhanced safety - proven to reduce physical effort by 87%.
Better margins- Lower project costs keeps you more competitive!
Quick ROI - Customers report they pay for their PowerMate in savings within the first year - and often after one job! If you avoid four crane moves and 8 rigging jobs you can expect to save close to $20,000 in costs in just one year. That's a 4:1 ROI in the first year alone!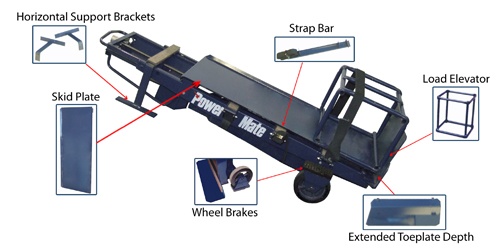 The elevator package includes all of the following:
Wheel Brakes - Allows the operator to safely negotiate stairs with heavier loads.
Extended Toe Plate Depth - The oversized steel toe plate supports heavy and awkward loads.
Load Elevator - Metal spacer adjusts the centre of gravity for optimal leverage so loads move with a fraction of the effort.
Skid Plate - The flat skid deck makes it easier to position the load while in the horizontal loading position.
Extra Strap Bar - Third tie-down safely secures tall and oversized loads.
Cylinder Attachment (not shown in the image above) - Cradles an armature to hold it securely in the centre of the strapbar.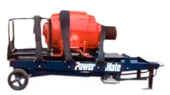 Horizontal Support Brackets
The horizontal support brackets allow the machine to be loaded in a horizontal position - the preferred position when using the load elevator. With the addition of the horizontal support brackets, the M-1 model can be lowered into a horizontal position. The load can then be easily moved higher up the frame to allow for the addition of a load elevator. This is very handy for positioning heavy, compact loads like electric motors up into a well-balanced position prior to the move.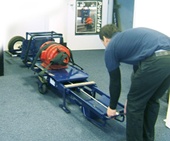 PowerMate Training
PowerMate offers training programs for the safe and efficient operation of your machine. The M-1 PowerMate can carry up to 3/4 of a ton. Mechanics need to be familiar with the features and controls to work confidently and efficiently in a safe environment. We provide training to ensure that.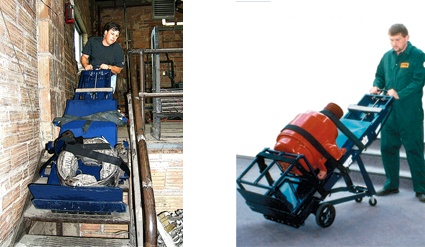 The M-Series machines come with a retractable four wheel dolly feature that makes flat surface rolling a breeze. When stairs are encountered the extra wheels are simply tucked back up against the back of the machine, out of the way until needed. (Full Specs on the PowerMate M-1)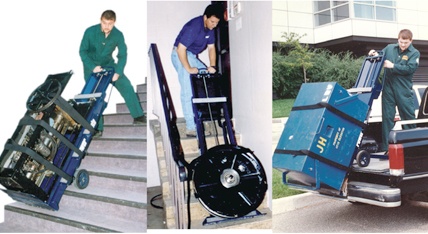 The PowerMate LE-1 Option for Mid-weight Jobs
For lighter jobs up to 700 lbs. the PowerMate LE-1 is the ideal stair climber for bottom heavy loads. The LE-1 has a dual drive screw that allows the operator to dynamically raise up and balance the load, thus further reducing the effort to move the load. The load is always in a neutral, balanced position. (Full Specifications on the PowerMate LE-1)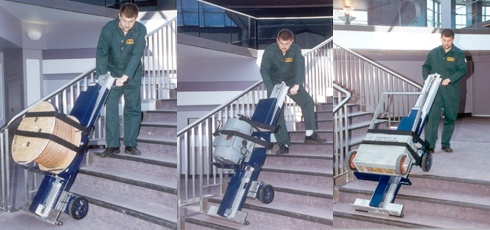 Example of loads in the centre balanced position while stair climbing using the PowerMate LE-1 motorized stair climber.
"I've made a lot of money with my PowerMate. I save $2,500 every time I don't have to use a crane. It's worth it in Mods. Maybe more for the guys in Repair."
Bud Robison
Modernization Manager, ThyssenKrupp
"General Elevator Company Inc., has used your PowerMate equipment in a large number of our offices and we are extremely pleased with the quality of the stair climber as it has greatly increased our field efficiency."
John E. Herwig
Senior Vice President (Ret.) General Elevator Co. Inc.
"After owning a PowerMate M-1 stair climber for some time now, we realized how hard we worked unnecessarily. Our company which specializes in elevator modernizations has to move a lot of heavy machines; motors, generators and electrical controllers. We are always moving this material in occupied buildings where we do not have the room to maneuver large lifting equipment.
Thanks to L P International Inc., our employees now can move our heavier loads up and down stairs with ease without any injury to themselves. We would recommend the M-1 stair climber to anyone who has to move heavy loads on a regular basis."
Jean Boucher
Project Manager, Sterling Elevator
Talk to a PowerMate Solution Specialist before your next big job!
Call 1-800-697-6283 Today