Become an International PowerMate
Partner

INTERNATIONAL PARTNER PROGRAMS - ANOTHER POWERMATE® ADVANTAGE!
To learn
more

about the PowerMate Partner Program, please fill in the form below. Our International & Business Development department will be in contact with you with more information shortly.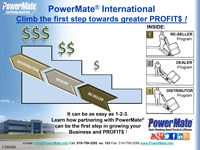 By filling out the form below you will automatically gain access to the PowerMate Partner presentation download.
* (required fields)
By supplying us with your information, you grant us permission to contact you periodically with updates on PowerMate Products. At any time you may unsubscribe. We will not share your information. See our Privacy - Terms Of Use for more details. Verify / update - your have previously supplied contact information.
Thank you for your interest in PowerMate.