PowerMate® Sicheres Transportsystem Hubheber
LP International und seine Produktreihe PowerMate® für Sackkarren bietet eine sichere Möglichkeit zum Transportieren von großen, unhandlichen Lasten. Eine PowerMate® motorisierter Treppenkarre ist eine zweirädrige Handkarre mit einem eingebauten, batteriebetriebenen Hebemechanismus. Mit dem motorisierten Hebemechanismus kann der Benutzer durch einfachen Knopfdruck schwerste Lasten Treppen hoch- und heruntertragen, sie auf Lieferfahrzeuge heben und von dort herunterheben und in Gebäude transportieren sowie sie von dort heraustragen. PowerMate® ist eine Kombination aus vier Maschinen. Es ist ein Treppensteiger, eine tragbare Heckklappen-Handkarre, ein Laderampenhubtisch und eine gut ausgewogene Handkarre, mit der man schwere und unhandliche Lasten einfach, sicher und effizient transportieren kann.
Die PowerMate® motorisierte Treppenkarre übernimmt 100 % der Hebebewegung und eliminiert dadurch praktisch die Gefahr von Rückenverletzungen, während gleichzeitig der Hebeaufwand für die schweren und unhandlichen Lasten um über 50 % verringert wird. Mit einer Ladekapazität von ca. 600 kg werden die PowerMate® Treppensteiger zum sicheren Transport von Objekten wie Heißwassertanks, Boilern, Heizungen, Gaszylindern, großen Haushaltsgeräten, Büromöbeln, Installations- und Heizungszubehör, Restaurantausstattungen, Verkaufsautomaten und vielem mehr verwendet. Objekte, die normalerweise mithilfe von zwei oder drei Personen transportiert werden müssen, können nun mit unserer Sackkarre mit nur einer Person bewegt werden.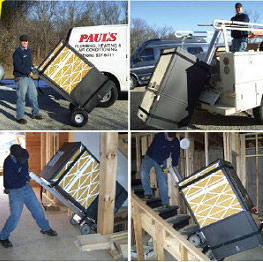 Die PowerMate® Heckklappen-Hebelifte sind die perfekte Ergänzung zu unseren anderen Maschinen oder auch als Einzelmaschinen geeignet. Sie sind ideal für das Heben von ca. 227 kg schweren Lasten auf Fahrzeuge bzw. von Fahrzeugen herunter geeignet, wie beispielsweise für Kastenwagen, Lieferwagen und Kleintransporter. Diese Heckklappen-Hebelifte haben einen sehr geringen Platzbedarf und werden durch das elektrische System des Fahrzeugs angetrieben.
Mit den motorisierten Treppenkarren und Hebeliften von PowerMate® sparen Sie Geld und kostbare Zeit und vermeiden Sie Rückenverletzungen . Die sicheren Transportsysteme von PowerMate® - die intelligente und kostengünstige Art und Weise zum sicheren Transport Ihrer Produkte.
Klicken Sie hier, um unsere Website zu gelangen. Der Inhalt dieser Website ist in englischer Sprache. Jegliche Korrespondenz muss daher in Englisch erfolgen.
To learn more about the PowerMate® Safety Moving Systems, the worlds #1 motorized electric stairclimbing HandTrucks, please fill in this form.
Please tell us who you are ..
* (required fields)
By supplying us with your information, you grant us permission to contact you periodically with updates on PowerMate Products. At any time you may unsubscribe. We will not share your information. See our Privacy - Terms Of Use for more details.
Thank you for your interest in PowerMate.