PowerMate® – Veiligheidstransportsysteem
L P International Inc. levert met de PowerMate® een serie steekkarren waarmee u grote, onhandige lasten veiliger kunt verplaatsen. De gemotoriseerde PowerMate®-traploper is een tweewielige steekkar met een ingebouwd, accuaangedreven hefmechanisme. De gebruiker heeft door middel van een drukknop controle over het gemotoriseerde hefmechanisme en kan zo goederen uit vrachtwagens lossen of laden, gebouwen in en uit rijden en trappen op en af vervoeren. De PowerMate® is vier machines in één: een traploper, een laadkleplift, een heftafel voor laadplatforms en tegelijk een goed gebalanceerde steekkar waarmee u gemakkelijk, veilig en efficiënt zware, onhandige lasten verplaatst.
De gemotoriseerde, traplopende PowerMate®-steekkar doet bij het heffen 100% van het werk, zodat het risico op rugletsel vrijwel uitgesloten is, en doet bij het verplaatsen van zware, onhandige lasten meer dan 50% van het werk! Dankzij het laadvermogen tot 680 kg kunnen PowerMate® -traplopers veilig worden gebruikt om voorwerpen zoals heetwatertanks, boilers, ovens, gasflessen, grote huishoudelijke apparaten, kantoormeubilair, loodgietersspullen, restaurantuitrusting, automaten en nog veel meer te verplaatsen. Goederen waarvoor meestal 2 of 3 mensen nodig zijn kunnen met onze steekkar worden verplaatst door één persoon.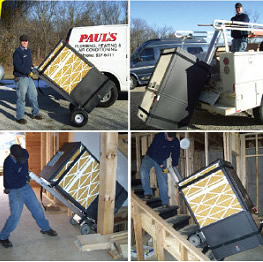 PowerMate®-autoliften zijn de perfecte aanvulling op onze andere machines of een zelfstandig hulpmiddel. De liften zijn ideaal om lasten tot 226 kg in vrachtwagens, bestelbussen en bestelwagens te laden of te lossen. Deze compacte autoliften reizen in de wagen mee en werken op stroom uit het voertuig.
Met de gemotoriseerde traplopers en autoliften van PowerMate® spaart u geld, uw rug en kostbare tijd. PowerMate® -veiligheidstransportsystemen zijn de slimme, voordelige manier om uw producten veilig te verplaatsen.
Wij nodigen u uit om onze website te bekijken en verder te lezen over onze gemotoriseerde traplopers. De rest van deze website is in het Engels. Ook correspondentie met ons is alleen mogelijk in het Engels.
Klik hier om naar onze website te gaan
To learn
more

about the PowerMate® Safety Moving Systems, the worlds #1 motorized electric stairclimbing HandTrucks, please fill in this form.

Please tell us who you are ..

* (required fields)
By supplying us with your information, you grant us permission to contact you periodically with updates on PowerMate Products. At any time you may unsubscribe. We will not share your information. See our Privacy - Terms Of Use for more details.
Thank you for your interest in PowerMate.